You know about Rafflecopter for running giveaways.
Today, we're going to talk about Rafflecopter alternative KingSumo.
A recent giveaway creator used KingSumo to increase their social followers 377%.
And another giveaway creator used KingSumo to get 19,830 email subscribers.
In this blog post, we're going to talk about Rafflecopter vs. KingSumo.
We're breaking down the biggest features, step-by-step, and comparing them so you can make the best decision for your website, brand, or business.
Getting Started with Your Giveaway
KingSumo makes it easy to start a giveaway in under 5 minutes.
Just enter your email address to get going.
Rafflecopter makes it easy to sign up too…
But once you get going, there are BIG differences.
Many features Rafflecopter locks behind a paywall.
Instead of charging you for these features, KingSumo offers them for free:
Adding prize photos/images
Pinterest integration
Email list integration
Refer-a-friend entry option
When setting up your giveaway, KingSumo continues with the simplicity.
First, you can spice up your giveaway with an attention-grabbing headline and a mouth-watering description. This will get users to enter and share.
Second, customize your start and end date to ANY timeframe you want. If you want to start your giveaway in a few weeks, no problem. Or, you can start it today!
Third, add your site name and URL. This makes it a breeze for entrants to visit your website.
And fourth, add beautiful images that make people fall in love with your prize and brand
When you set up a giveaway using Rafflecopter, there isn't much room to customize your giveaway.
Want to add a description? You can't.
Want to add a link to your site? No way, Jose.
Want to add beautiful images? Only for paid users.
KingSumo is the best choice if you want advanced customization and options to match your brand.
After you setup the basics in KingSumo, you can hand-pick your Sharing options.
Sharing will help your giveaway go viral. There have been dozens of giveaways that used KingSumo to get 2,000+ entrants because of the Sharing features.
Rafflecopter has similar options to get extra points by visiting a Facebook fan page, subscribing to an email list, and more.
However, many of these features are only offered it you upgrade: Pinterest, subscribing to a mailing list, and answering a poll are all paid-only options.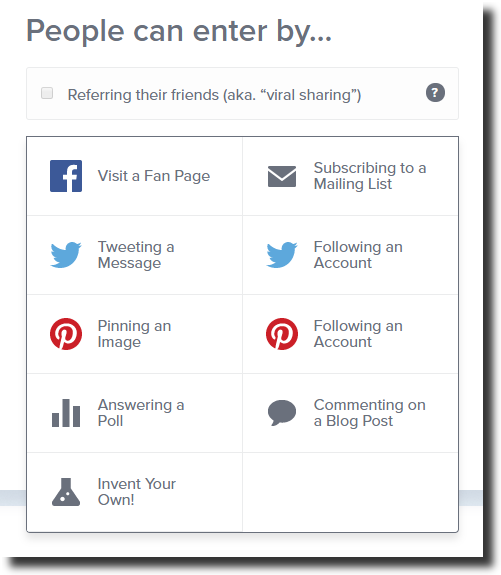 But where Rafflecopter stops, KingSumo keeps going.
KingSumo uses Bonus Entries to give giveaway creators tons of freedom to create actions that help grow their business, website, or social following.
Here's where KingSumo keeps adding value…
Instagram follow (missing from Rafflecopter)
YouTube subscribe (missing from Rafflecopter)
Podcast subscribe (missing from Rafflecopter)
These additional bonus entries are how you grow your channels and social accounts automatically. 🚀
Launching & Promoting Your Giveaway
After you've setup your giveaway, it's time to launch it to your fans and help it go viral.
On KingSumo, you're shown an actionable step-by-step marketing checklist so you know what to do next.
With one click, you can start promoting by sending your contacts an email.
Rafflecopter is missing this feature.
Next on KingSumo, you can embed a giveaway badge on your website completely FREE.
This will drive people to your giveaway, and the badge can be placed on any (or all) pages.
Rafflecopter doesn't have this feature either.
Another option with KingSumo is using the embed widget code. You can embed the code on any page of your site, giving you full control over where to show off your giveaway.
For an ultra-effective "1-2 Punch", you can use the giveaway badge plus the embed widget code. The simple winning combination is embed the widget on a landing page, and use the badge on all others.
Rafflecopter gives you an option to embed a giveaway widget… but it's limited.
If you want to launch and promote your giveaway easier — including using beautiful embed badges and widgets — KingSumo is your best choice.
After Your Giveaway Ends
Who says the fun stops when your giveaway is over?
After you've launched and gone through the promotion checklist, there's one more trick up KingSumo's sleeve.
The KingSumo post-giveaway entrant page was designed to get more email subscribers and followers to your giveaway… after a giveaway is over!
Even AFTER your giveaway ends, you can keep collecting email subscribers.
And when you get more email subscribers post-giveaway… you can get more customers and leads automatically and with no extra work.
Post-giveaway entries is a feature that Rafflecopter doesn't have.
In Summary: KingSumo vs. Rafflecopter
To recap, here's how the free version of KingSumo stacks against Rafflecopter.
Rafflecopter charges you up to $1,008 per year for features KingSumo offers for $0!
If you want a Rafflecopter alternative that's simple to use and effective to grow your email subscribers, customers, or social followers — KingSumo is the best choice for you.