You're looking for an alternative to Gleam for running giveaways — something cheaper or free, with better features.
Today, we're going to talk about Gleam alternative KingSumo.
A recent giveaway host used KingSumo viral giveaways to get 300 new social followers in just 9 days. 🚀
That's a 775% increase over their normal growth!
In this post, we're comparing Gleam and KingSumo side-by-side so you can make the best choice for your business, brand, and website.
Starting Your Giveaway
You can start your giveaway with KingSumo in under 5 minutes.
Just type in your email address and start setting up for FREE.
Gleam's sign up process takes a few extra steps.
During Gleam's signup they also lock key giveaway features behind a paywall:
Adding prize photos/images
Daily entries
Customized links for bonus entries
Floating widget tab
Promotional email templates
LinkedIn integration
Email list integration
Refer-a-friend entry option
KingSumo offers many of these same features for FREE. 💰
When setting up your giveaway, KingSumo makes it super easy:
You can boost your giveaway with a show-stopping headline and description. This helps your audience easily enter and share so you get more customers, email subscribers, and fans
Set your start and end date to ANY duration you want. Want to start a giveaway today? No problem. Or, start it a month from now… whatever you want!
Add your site name and URL. This make it super easy for your contestants to visit your site and fall in love with your brand
Add gorgeous images to your giveaways to catch people's attention them and get them to enter
On Gleam, adding prize photos to your giveaway is only reserved for paid users.
After you add giveaway information when setting up KingSumo, you can pick your Sharing options.
These sharing options allows an entrant to one-click share the giveaway with their friends on a handful of social networks.
It benefits the entrant because it increases their chances to win.
And it benefits the giveaway admin because it helps the giveaway go viral and the admin to get more social followers. Win-win.
Some giveaways using KingSumo have grown 2,000+ social followers because of this feature!
Gleam has tons options to get extra points too by visiting a Facebook fan page, following a Twitter page, and more, too.
Some are free, but when you look closer many are paid only.
Where Gleam stops, KingSumo keeps on going.
In the Bonus Entries section, KingSumo gives creators tons of freedom to create actions that help grow their business, website, or social following via a giveaway.
Here's where KingSumo keeps adding value…
Watch a YouTube video (only for paid Gleam users). Imagine having hundreds of people watch your best content on YouTube, subscribe to your channel, and helping make your YouTube channel more popular!
Click a Link / Custom action (reserved for paid Gleam users). Can't find the bonus entry out-of-box option you want? This feature gives you the freedom to create your own! Want your entrants to comment on your latest blog post? Follow you on Snapchat? Something else? It all can be done on KingSumo for FREE
Podcast subscribers (missing from Gleam). Grow your podcast and retain a listener base you can market to again and again in the future
These extra bonus entries are how you grow your social channels, podcasts, and more with little effort. 🚀
Launching & Promoting Your Giveaway
After putting your finishing touches on your giveaway, it's time to launch and make it go viral.
On Gleam, after you save your info and you're ready to launch, you have a few options to promote the giveaway.
Embed your giveaway on any page or post. A standard for all giveaway tools so you can can show your giveaway on your website.
Create a landing page. Mirror the Gleam hosted landing page on your site
Install a competition tab on your Facebook page. Make it easy for your fans to notice your giveaway on your Facebook fan page
Add a tab to your site. Have a tab on your website that triggers your giveaway in a pop-up when clicked. The tab feature is only for paid users.
On KingSumo, after setup, you'll get an actionable step-by-step marketing checklist to launch your giveaway successfully.
Like Gleam, You can start by embedding your giveaway widget on any page of your website. You can use this to build KingSumo around your brand.
For example, put text, images, or videos surrounding your giveaway. Or, use a Sumo popup or Smart Bar to give special offers to giveaway entrants.
Next, you can embed a widget tab on your website completely FREE!
You can embed the badge on any (or all) your page and it floats. Your website visitors won't miss it.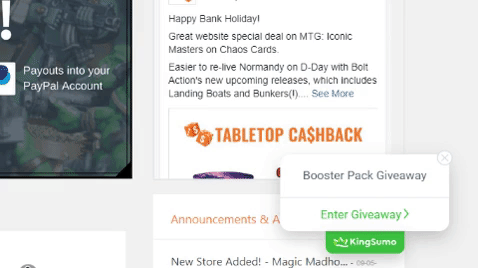 If you want to launch and promote your giveaway to virality, with beautiful photo gallery embeds and FREE embed tabs, then KingSumo is the right choice for you.
After the Giveaway is Over
KingSumo has one more feature to get you more subscribers & followers… after the giveaway ends.
And that feature is the KingSumo post-giveaway entrant page.
Instead of showing customers a dead end when your giveaway is over, this feature helps you get more subscribers and followers after you wrap up — automatically without any extra work.
This means you can leave the giveaway on your website, knowing it's acting as a lead-generation magnet to get more email subscribers, potential customers, and lifelong fans.
Gleam doesn't have a post-giveaway entries page — if you want to continue collecting email subscribers even after a giveaway ends, KingSumo is the best choice.
In Short: KingSumo vs. Gleam
For features you could get from KingSumo for FREE, Gleam charges you up to $4,788 per year!
If you want a FREE Gleam alternative that's simple to set up, packed with premium features, and ready out-of-the-gate to grow your revenue, social followers, and email list… check out KingSumo.